Chinese New Year is a big celebration in China -shops, factories and schools shut for at least a week and families gather to enjoy home-cooked dishes such as guotie. Guotie translates literally as 'pot stickers'. Like their thicker-skinned cousins shengjianbao, they are first fried to create a crunchy base, then steamed to soften the dumpling skin and cook the meat. It never ceases to amaze me how beautiful these look once cooked. Soft and white on the top, with a golden brown, crisp bottom.
Guotie also know as Pan-Fried Dumplings, if you are looking for guotie recipe or guotie dumplings recipe, then you are at right place.
Ingredients for guotie
Dumpling wrappers
100ml/7 tbsp boiling water
1 tsp salt
200g/7oz/generous 1 1/2 cups strong white bread flour, plus extra for dusting
Filling
1/4 head of Chinese leaf (napa cabbage), core removed, finely chopped
1/2 tsp salt
50g chives, finely chopped
300g minced(ground)pork
1 garlic clove, grated
5cm/2in piece of fresh root ginger, grated
1 tbsp Shaoxing rice wine
1/2 tbsp light soy sauce
1 tsp caster(superfine)sugar
1/2 tbsp oyster sauce
1 tsp sesame oil
2 tbsp potato starch or cornflour(corn starch)
To cook
1 tbsp vegetable oil
3 tbsp cold water
Dipping sauce
5 tbsp Chinese red vinegar
4-6 slices of fresh root ginger,cut into fine strips
Guotie Recipe
First make the dumpling wrappers. Measure the boiling water into a jug, add the salt and stir to dissolve. Sift the flour two or three times into a large mixing bowl, pour in the salted water and mix with a wooden spoon to make a fairly stiff dough(you may need to add another 1-2 teaspoons boiling water). Turn out the dough onto a floured work surface and knead for 10 minutes until smooth, then return it to the bowl, cover with a clean tea towel and set aside at room temperature for 10 minutes.
Turn out the dough onto a lightly floured work surface, roll into a log and divide into 10 equal pieces. Shape each piece into a ball, then flatten and use a rolling pin to roll out into about 8cm/3in diameter circles. Arrange the dumpling wrappers in a stack on a plate, flouring in between each wrapper, cover with a clean tea towel and set aside while you make the filing.
To make the filling, put the cabbage in a large bowl and stir in the salt and chives. Squeeze the mixture between your hands to extract as much water as possible and drain well. Return the cabbage to the bowl and add the rest of the fillinging redients. Using a metal spoon, mix well in a clockwise direction until the filling is thoroughly combined and sticky in consistency.
Wet your finger with water and moisten the outer rim of a dumpling wrapper. Place 1 heaped tablespoon of filling in the centre of the circle, fold over to form a half-moon shape and pleat the edges together. If you are right-handed, do this from right to left. Use your left thumb to push the wrapper to your right and your right thumb and index finger to pinch the two layers of pastry together. Reverse this if you are left-handed. This creates a nice wavy edge. Repeat to make ten dumplings.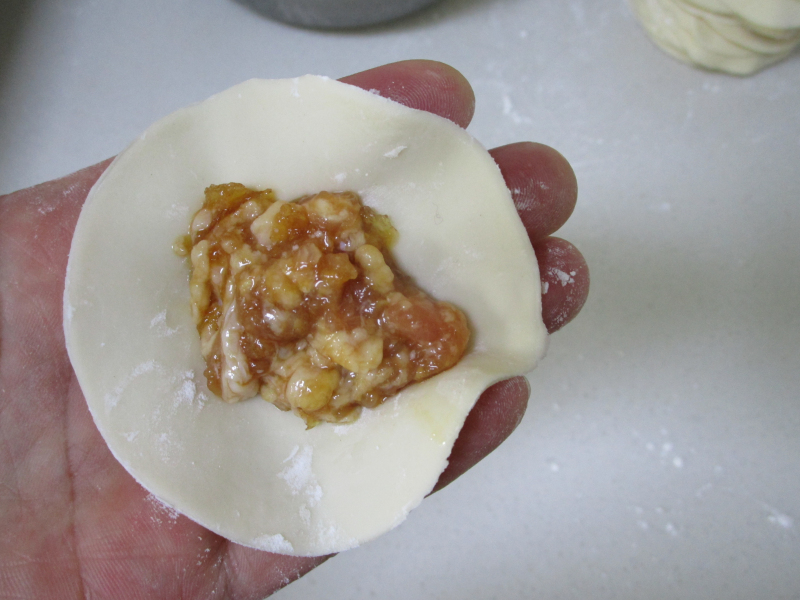 To cook, heat the oil in a large lidded frying pan over a medium heat. Place all the dumplings in the pan and fry them for 1 minute on each side until they have a golden crust. Pour in the cold water, immediately cover the pan with a lid and cook until the water has evaporated, about 5-6 minutes. Reduce the heat to low, then remove the lid and cook for a further minute.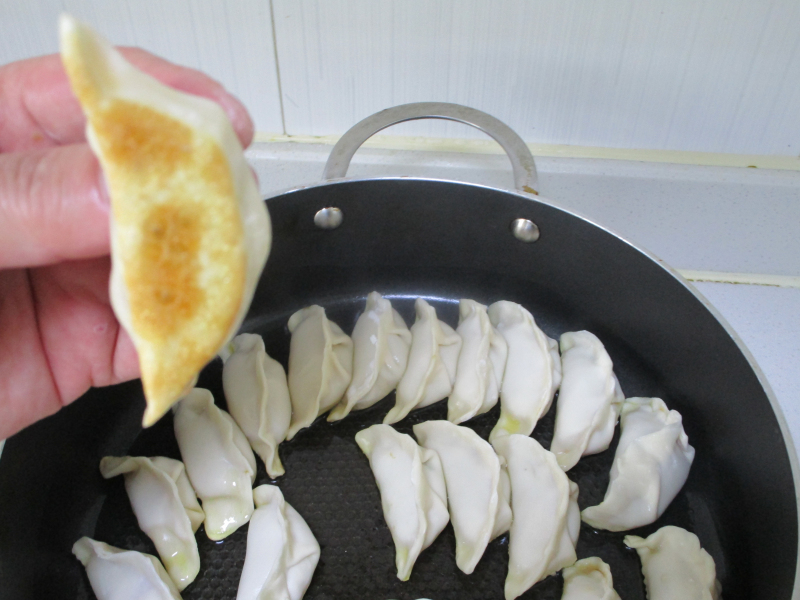 For the sauce, mix the vinegar and ginger in a bowl and serve with the dumplings.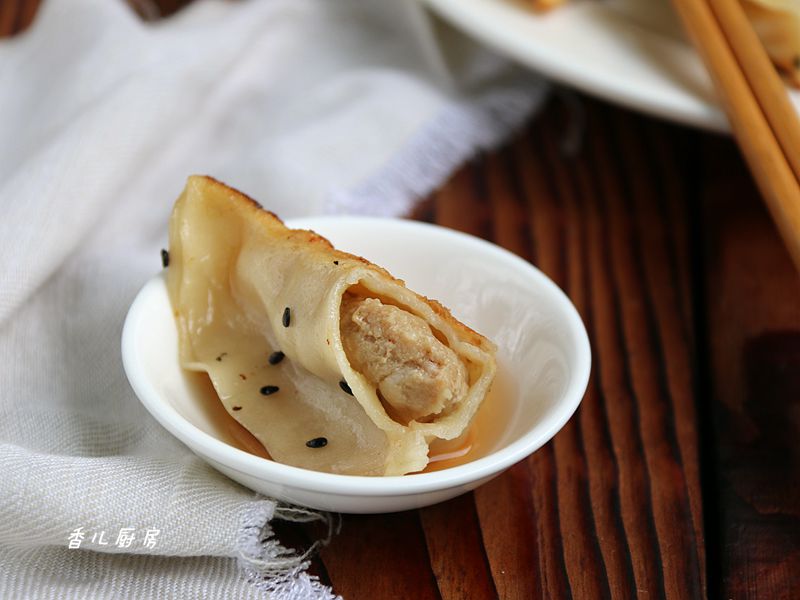 Tips for Guotie Recipe
Another way to cook these dumplings is to boil them first, for 5 minutes, then drain and pan-fry as above. This will ensure the meat is fully cooked in case you have been over-generous with the filling.