Steamed Whole Fish with Fragrant Sauce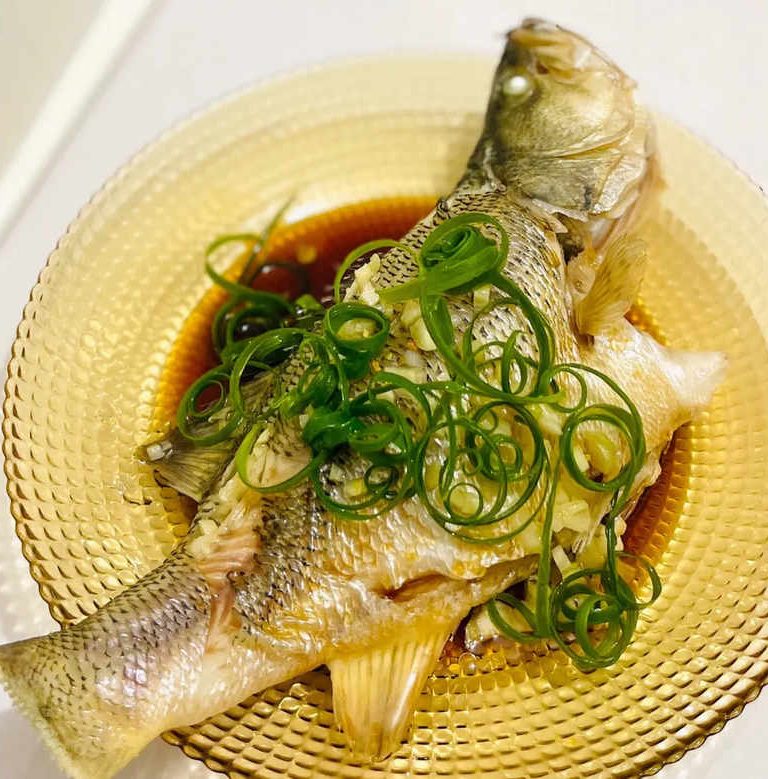 In order to make this dish, you need to prepare the sauce.
Sauce
1 tablespoon soy sauce
1 teaspoon sesame oil
1 teaspoon sugar
1/2 teaspoon salt
1 teaspoon cornstarch dissolved in 2 tablespoons water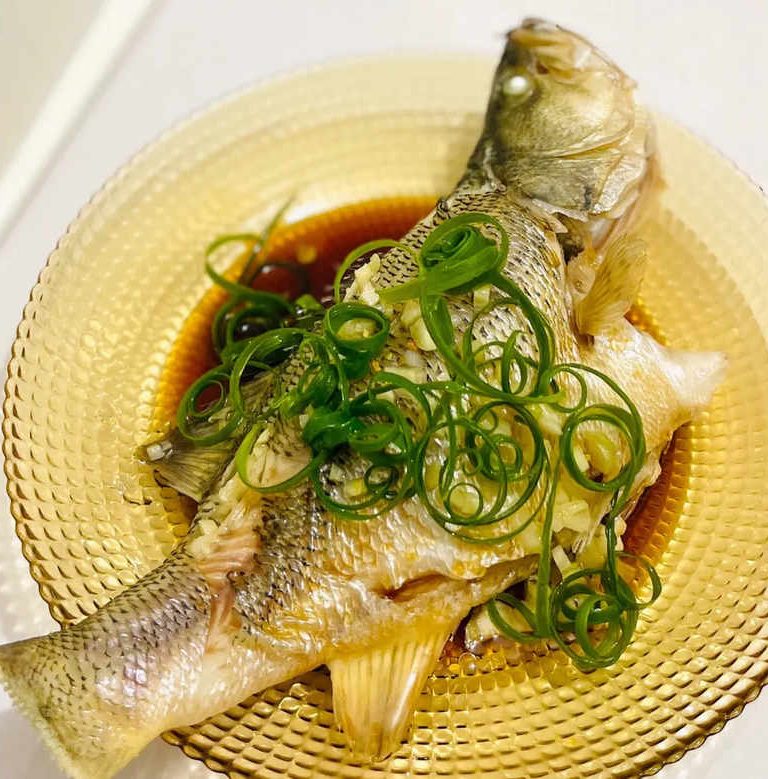 Steamed Whole Fish with Fragrant Sauce
Instructions
Prepare a steamer with rack and bring the water to a boil over high heat.

Scale and gut the fish, or have this done at the market, but leave the head, tail and fins on. With a sharp knife, make 3 diagonal cuts into the flesh on both sides of the fish. Sprinkle with the rice wine inside and out.

 

Cut the carrot in half lengthwise, place the pieces across a steaming plate to form a base, and set the fish on top, so that the steam may circulate under the fish.

Place the ginger slices inside the fish.

Mix the Sauce ingredients in a small pan and stir over low heat until the Sauce is well blended and thickens. Turn off the heat and keep warm on stove.

Place the steaming plate with the fish on the rack inside the steamer, cover tightly and steam over high heat for 10 minutes (12 minutes for larger fish). If the lid is not tight, put something heavy on top of it to keep the steam from escaping.

Remove the plate from the steamer, then carefully transfer the fish to a serving dish, using two spatulas so that it does not fall apart.

Dust the fish lightly with the pepper, then spread the sliced spring onions evenly over the fish. Reheat the Sauce until it comes to a boil, then drizzle it slowly over the spring onions. Serve hot with plain rice.
Note
Another way of cooking this dish is to prepare it exactly as above, but instead of pouring a sauce over the steamed fish, drizzle 60 ml (1/4 cup) of very hot oil over it (heat the oil in a small pan until it smokes). This wilts the spring onions and sizzles the skin of the fish. You may also substitute thinly sliced fresh coriander leaves (cilantro) for the spring onions.
Steamed fish recipes
Did you make this recipe?
Recipe Card powered by